DanDan Middle School
Executive Summary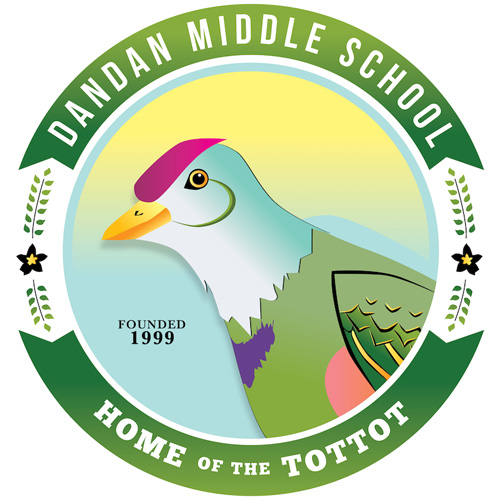 Dandan Elementary School was established in 1999.  In SY 2014 - 2015, the school transitioned as a middle school and was renamed Dandan Middle School.  Dandan Middle School (DMS) serves students from Dandan Village, San Vicente Village, and parts of Aslito and Papago areas.  As of June 12, 2020, 383 students were enrolled in DMS.
 
6th Grade:  131 students
7th Grade:  138 students
8th Grade:  114 students
For SY 2019 -2020, the school registered 28 more students compared to SY 2018 - 2019.  DMS had 33 teachers and instructors, 1 school counselor, 1 librarian, and 4 administrative staff.   Mr. James DLG. Sablan, principal and Reo Arriola, vice-principal, are the instructional leaders of the school.
 
On March 16, 2020, the Commissioner of Education announced the suspension of classes for the CNMI Public School System until further notice in response to the Covid-19 pandemic.  On March 24, 2020, the classes were suspended for the entire school year.  DMS teachers and staff prepared enrichment packets for all students.  Parents and students were able to choose from two options:  paper base (hard copies) or online work.  Furthermore, the COE announced that all grades prior to March 16 will be the final grades for the school year.  In addition, all locally funded teachers and staff were served with a furlough notice effective April 15, 2020.  DMS has 4 classroom teachers funded through federal accounts.  In addition, the 2 school administrators, the admin officer, and 2 - distant education certified teachers were moved to federal funded accounts.
 
In April 2015, the CNMI Public School System took the Future Ready District Pledge, which is designed to set out a roadmap to achieve success and commit to move as quickly as possible towards a shared vision of preparing students for success in college, careers, and citizenship.  We continue to strengthen the Future Ready commitment by bringing Project Lead the Way (PLTW) to DMS.  For SY 2019 - 2020, DMS implemented Project Lead the Way, STEM Curriculum. for the first time.  For SY 2020- 2021, DMS offers the following PLTW courses: Innovators and Makers -6th Grade, Green Architecture - 7th Grade, and APP Creators-  8th Grade.    DMS is excited to offer PLTW courses and engage students with hands-on classroom environments and empower students to develop in-demand knowledge and skills they need to thrive.
 
In addition, the school has also invested in providing Character Education for all students.  For SY 2021, DMS, for the third year, has implemented The Second Step Character Education Program.  Second Step was chosen because it introduces content through interactive, relevant, and up to date lessons that incorporate classroom discussion and cooperative group activities to accomplish learning objectives.  Our school counseling program has plans to provide more self-meditating and wellness health programs to help students cope with their emotional challenges.
 
The sudden closure of the school year affected all the school plans and goals based on School Wide Plans, such as the following:
 
ACT Aspire Data

ACT Aspire 1:  cancelled due to contract issues
ACT Aspire 3:  completed
ACT Aspire: Summative Tests - cancelled due to the suspension of the school year

STAR Data

Baseline Test was completed
Qtr., 1 Test was completed
Qtr. 2 Test was administered by not to all students

Achieve3000 data
Cancellation of the Professional Development

Project Lead the Way Certification
Safe and Civil Schools PD for school administrators
ASCA for School Counselors, 

Cancellation of off-island competition
Cancellation of NJHS Induction
Changes to 8th Grade Promotion Ceremony
This school year, we plan to continue on with our Reading Initiative; to fund our campus with technology to adhere to the Future Ready components, provide an effective Middle School Counseling program, fully equip our Career and Technical Education courses with technology to help students achieve 21st Century Skills, and provide a "Safe and Orderly" school or all stakeholders.
 
For SY 2019 - 2020, despite the change of leadership, DMS teachers and staff were focused on the goal and the objectives, the school's leadership team set for the school year.  However, the school year had to deal with several factors that were beyond their control.   These factors suspended classes or a half-day session was implemented. 
 
Tropical Storms

Tropical Storm Hagibis - No classes, October 7 - 9, 2019
Tropical Storm Bualoi - No Classes October 21 - 22, 2019
Tropical Storm Kammuri; No Classes November 27, 2027

School Power Outage due to a transformer

Lost power to 8 classroom and the admin office on October 23, 2019
Half-Day Session:  November 15 - November 27, 2019
Full day session reestablished on December 3, 2019

Covid 19

No Classes due to Covid 19 Directive of March 16, 2020
Suspension of Classes Memo - March 23, 2020
Furlough of Teachers and Staff - April 15, 2020
For SY 2020 - 2021, DMS will continue with the goal and objectives created for SY 2019-2020 with some changes to our objectives.  As a school, we will be looking at our students' progress on reading and math based on the Scaled Score (SS) as measured in STAR Reading and STAR Math.  The school believes that on-going professional development of all teachers and staff will create an effective instructional environment.  We will invest in providing professional development to our teachers and staff.  Finally, DMS will participate in the Rigor and Relevance program as we look and refocus on the social and emotional learning of our students.
 
SWP:  Goals, Number of Objective Met/Number of Objectives
Scroll the table left to right
#

Goal Name

Number of Objective Met/Number of Objectives

1

ACT Aspire Goal

Objectives: 0/ 8
Due to the suspension of the school, DMS was
not able to meet any of the objectives set for the school year.
Scroll the table left to right
School Budget (Local, Federal, Non-Appropriated Funds, Others)
Scroll the table left to right
| | |
| --- | --- |
| Funding Source | Total Allocation |
| Personnel Local Budget (including all benefits) | $1,107,948.00 |
| Personnel Federal Budget (including all benefits) | $   183,260.00 |
| Local Budget - Operations Allocation | $36,600.00 |
| Federal Consolidated Grant (School-wide Plan) | $243,603.00 |
| Federal Wellness | $8,831.00 |
| Federal Parental Involvement | $3,000.00 |
| DMS Non-Appropriated Funds (PTA Funds) | $2,600.00 |
| DMS Non-Appropriated Funds (Educational Tax Credit) | $11,938.13 |
Scroll the table left to right
School Successes / Highlights
Project Beam:  Math Project in partnership with NMC Math Department
December 14, 2019:  Christmas Tree Decoration Competition – 1st Place
January 31, 2020:  DMS Parent Night
Spelling Bee:  Jazabell Sumor – DMS Spelling Bee Champion
National Geography Bee (first time to participate):  Bianca Manabat
National Junior Honor Society – Dandan Middle School Chapter:  17 Inductees
CCLHS Competition @ Saipan Southern High School
UOG Chamorro Language Competition:  First year to participate and Place 1st in Poem Presentation and 2nd place – Choral
Student Enrichment Packet – March 26 – June 14, 2020
8th Grade Promotion Ceremony

June 9th Virtual Ceremony on DMS FB Page
June 10th – Grab-n-Go Promotional Certificate Distribution

Construction of 2 Classrooms:  95% Completion as July 27, 2020
Scroll the table left to right
| | | |
| --- | --- | --- |
| # | Goal Name | Number of Objective Met/Number of Objectives |
| 1 |   | Objectives: / |
Scroll the table left to right
School Budget (Local, Federal, Non-Appropriated Funds, Others)
Scroll the table left to right
| | |
| --- | --- |
| Funding Source | Total Allocation |
| Personnel Local Budget (including all benefits) |   |
| Personnel Federal Budget (including all benefits) |   |
| Local Budget - Operations Allocation |   |
| Federal Consolidated Grant (School-wide Plan) |   |
| Federal Wellness |   |
| Federal Parental Involvement |   |
| DMS Non-Appropriated Funds (PTA Funds) |   |
| DMS Non-Appropriated Funds (Educational Tax Credit) |   |
Scroll the table left to right
School Successes / Highlights