Child Nutrition Program
The CNMI PSS Child Nutrition program operates under a Nutrition Assistance Grant (NAG) funded by the United States Department of Agriculture (USDA). Throughout the year, CNP provides CNMI children access to nutritious meals at schools, Head Start centers, daycare centers, and summer camps. All meals served fall into one of the following categories: the School Meals Program, the Summer Food Service Program, or the Child and Adult Care Food Program.
 
In the current school year, CNP serves children at 20 public schools, 9 Head Start centers, 6 Early Head Start centers, and 20 private schools and daycare centers. All meals are currently produced and delivered by five contracted food service companies on Saipan, one on Rota, and one on Tinian under the guidance and coordination of the Child Nutrition Program Director.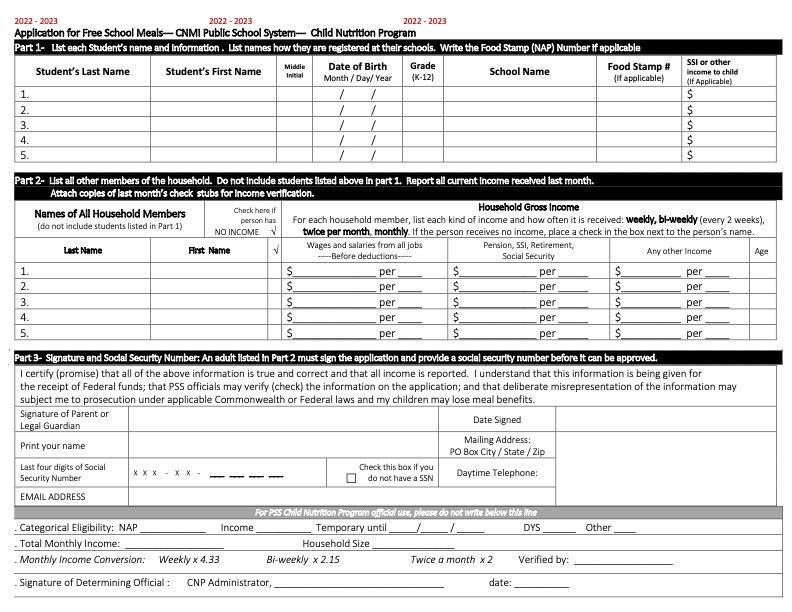 SY 2022-2023 Cycle Menu
Monday Day 1
Breakfast
Lunch
Grilled Ham Steak

Steamed Brown Rice

Sweet Potato Fries

Texas BBQ Beans

Fruit
Tuesday Day 2




Breakfast
Sausage Links

Garlic Fried Rice

Fruit
Lunch
Chicken Burger

Potato Wedges

Broccoli

Fruit



Wednesday Day 3




Breakfast
Pan de Sal with Egg & Cheese

Fruit
Lunch
Beef Steak with Green Peas & Onions

Red Rice

Local Vegetables

Broccoli

Fruit



Thursday Day 4




Breakfast
Tropical Storm Fried Rice

Fruit
Lunch
Pepperoni Pizza

Vegetable Sticks and Dips

Fruit



Friday Day 5




Breakfast
French Toast with Syrup

Sausage

Fruit
Lunch
BBQ Chicken

Red Rice

Corn and Potato Salad

Flavored Milk

Fruit



Monday Day 6




Breakfast
Lunch
Oven Fried Chicken

Red Rice

Corn

Sauteed Spinach

Fruit



Tuesday Day 7




Breakfast
Ground Beef & Vegetable

Omelet

Steamed Rice

Fruit
Lunch
Marianas BBQ Burger

Sandwich Sides

Sweet Potato Fries

Fruit
Wednesday Day 8




Breakfast
Grilled Cheese Sandwich

Fruit
Lunch
Beef Bulgogi with Bell Peppers

Bean Sprouts & Onion

Steamed Rice

Carrot

Fruit



Thursday Day 9




Breakfast
Grilled Ham with Fried Rice

Fruit
Lunch
Spaghetti Bolognese

WGR Roll

Garlic Spinach

3 Bean Salad

Fruit
Friday Day 10




Breakfast
Pancakes with Syrup

Bacon

Fruit
Lunch
Breaded Fish with Sauce

Red Rice

Potato Wedges

Local Vegetables

Fruit

Flavored Milk



Monday Day 11




Breakfast
Lunch
Chicken Alfredo with Spinach

Garden Salad

Local Vegetables

Fruit
Tuesday Day 12




Breakfast
Fried Rice with Chicken Nuggets

Fruit
Lunch
Turkey & Gravy

WGR Roll

Mashed Potato

Steamed Carrots

Fruit
Wednesday Day 13




Breakfast
Lunch
Beef & Broccoli

Steamed Rice

Mixed Vegetables

Fruit



Thursday Day 14




Breakfast
Sausage Patty with Garlic Rice

Fruit
Lunch
Cheese Pizza

Vegetable Sticks & Dip

3 Bean Salad

Fruit



Friday Day 15




Breakfast
French Toast with Syrup

Sausage

Fruit
Lunch
Kung Pao Chicken w/Bell Peppers

Steamed Rice

Steamed Broccoli

Fruit

Flavored Milk
Monday Day 16




Breakfast
Lunch
Chicken Curry with

Carrots and Potatoes

Broccoli

Steamed Rice

Fruit
Tuesday Day 17




Breakfast
Fried Rice with Portuguese Sausage

Fruit
Lunch
Cheeseburger

Sandwich Sides

Sweet Potato Fries

Fruit
Wednesday Day 18




Breakfast
Ham and Cheese Roll

Fruit
Lunch
Breaded Chicken with Gravy

Mashed Potato

3 Bean Salad

WRG Roll

Fruit
Thursday Day 19




Breakfast
Sausage & Egg Scramble

Steamed Rice

Fruit
Lunch
Beef Lasagna

Garlic Cauliflower & Broccoli

Corn

Fruit
Friday Day 20




Breakfast
Pancakes with Syrup

Bacon

Fruit
Lunch
Chicken Piccata

Garden Salad

Local Vegetables

Fruit

Flavored Milk
Contact Us:

CNMI Child Nutrition Program
PO Box 551370
Saipan, MP 96950
Administrative Office is located at
Capital Hill, Gov't House 1251