Saipan Southern High School
Executive Summary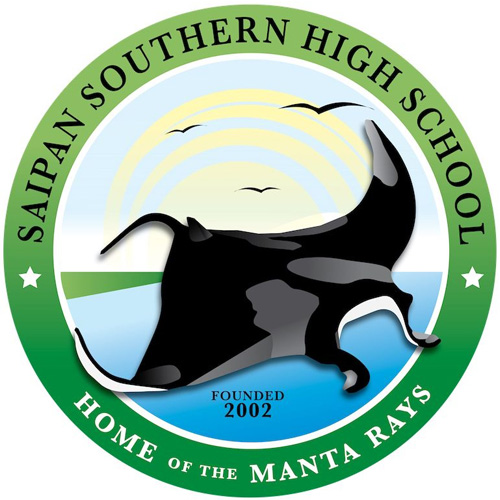 Saipan Southern High School (SSHS) opened its doors on August 16, 2002, and has remained a vanguard of excellence in education in the Commonwealth of the Northern Mariana Islands (CNMI).  SSHS is one of the three public high schools on the island of Saipan, and serves the village communities of Koblerville, San Antonio,  and Dandan.  Compared to the opening of the school, currently our student population is at 747. With the increase in demand of offering many more classes that will help the students' college and career readiness, we must look into building more classrooms to better serve our students and community.
 
SSHS has become a symbol of pride for the CNMI.  Our students have represented the Commonwealth in national and international competitions.  Since the school opening, our Manta Band has traveled to New York to compete and performed at the 2012 Summer Olympics in London, England.  Our students matriculate at colleges and universities across the United States and around the world, and they also serve in the U.S. Armed Forces.
 
"Un Eskuela, Un Korason.  One School, One Heart." Is our school motto.  Each day every member of our school family strives to live this motto.  These words resonate with administrators, counselors, teachers, staff members and the students who remain at our campus and those who have passed through this campus and have moved on to other ventures.
 
Our students come from many parts of Asia and from many of the island territories and nations of the Pacific.  The students we serve come from families who have come to the CNMI to work and many more who now call the CNMI home.  Because of SSHS'  high academic standards, many in our community have come to associate our school with prestige and honor.  Many of our students come from the bottom of the socio-economic ladder, and SSHS stands equipped to serve them regardless of ethnicity or socioeconomic status.
 
Many Members of our teaching staff are local hires, while many still come from the U.S.  We also have 7 alumni who teach  in the English and Math departments.  They are a testament to the work that SSHS has done and the work that SSHS will continue to do with our current students.
 
Students are encouraged to embrace the mission, vision and philosophy of SSHS in a variety of ways.  ESLRs are incorporated into lesson plans, many of which utilize cooperative learning opportunities and provide outlets for "thinking outside the box."  We also offer students the chance to apply their knowledge and skills in real-life situations such as raising money to participate in The Olympics because we acknowledge and respect students as stakeholders in their education and that education is not relegated to four walls in a school.  Perhaps our greatest means of embodying our school's purpose is the continued growth of programs that challenge our students, such as the Teacher Academy as part of the Career Pathway project.  This is a vital aspect of our school's purpose of raising the bar, so that students continue to reach and surpass expectations of the school, community and self.
 
SWP: Goals, Number of Objective Met/Number of Objectives
Scroll the table left to right
#

Goal Name

Number of Objective Met/Number of Objectives

1

High Student Performance
By June 2023, SSHS student cohort groups will increase their scaled scores by 5% or more as measured by Star Mat

Objectives: /1

2

High Student Performance
By June 2023, SSHS students' cohort will increase their GE by 3 grade levels or more as measured by the STAR. 

Objectives:  /10

3

Highly Qualified Personnel
Saipan Southern High School staff and teachers (100%) will all be Highly Qualified and Highly Effective Personnel as measured by pd tracker and BOE Certification.

Objectives:  /1

4

Safe and Orderly Campus
All students will be provided a safe, clean, and healthy environment conducive to learning as measured by checklist from school monitoring list and other govt agencies by June 2019. 

Objectives:  /1
Scroll the table left to right
School Budget (Local, Federal, Non-Appropriated Funds, Others)
Scroll the table left to right
| | |
| --- | --- |
| Funding Source | Total Allocation |
| Personnel Local Budget (including all benefits) | $2,016,269 |
| Personnel Federal Budget (including all benefits) | $236,250 |
| Local Budget - Operations Allocation | $75, 000 |
| Federal Consolidated Grant (School-wide Plan) | $468,000 |
| Federal Wellness | $17,862 |
| SSHS Non-Appropriated Funds (PTA Funds) | $1,200 |
| SSHS Non-Appropriated Funds (Educational Tax Credit) | $12,000 |
Scroll the table left to right
School Successes / Highlights
SSHS Junior Reserve Officer Training Corps (JROTC) competition overall champion for SY 2019-2020.
SSHS completed the first year of Pre-AP courses.
College prep math course began its first year of implementation.
Additional AP courses were introduced to SSHS this school year.
Journalism Class successfully launched a weekly digital bulletin shared via google drive. 
SSHS Interscholastic team participated in numerous sports events.  Although they did not get first place, they are still a champion for participating and dedicating their time and sweat for practices.
SSHS Student Leadership successfully attended the LEAD Conference in Chicago.
Junior Class/Prom committee donated to the graduation committee.
Student Council donated food and clothing to Karidat during Covid 19.
Student Council held a successful clothing drive and distributed items at Kobler Elementary during their Christmas program.
Youth Advisory Panel donated food to Karidat for Thanksgiving drive.
Youth Advisory Panel/ Student Council/ Youth Leaders earned QPR Gatekeeper Certificate by attending QPR Suicide Prevention Gatekeeper Program offered by SSHS Counseling department.
Youth Advisory Panel members and Student Council members successfully launched Virtual Prom project.  All meetings were conducted via virtual meetings.
Youth Environmental Ambassadors continued their beach clean up effort every other Saturdays until Covid 19 lock down.
Interact Club (Rotary) completed multiple beach clean up sessions as well as pavilion cleaning and painting.
National Honor Society successfully organized and executed the annual Academic Challenge Bowl.
My Wave Club was recognized during the Christmas in the Marianas parade as well as small skit competition. 
National Art Society completed the mural project in front of the main office building as well as the Manta monument revitalization.
Manta Choir successfully completed multiple concerts to showcase the student talents.
Multiple teachers and instructors received their Master's in International Education.
Multiple teachers and instructors completed the PSS Ed Tech course.