Office of Curriculum and Instruction

Executive Summary
Led by the Senior Director of Curriculum and Instruction, the Office of Curriculum and Instruction (OCI) facilitates and provides the content standards and curriculum alignment, congruence, cohesiveness, and instructional practices necessary for ensuring continuous improvement toward meeting the CNMI Public School System's mission, vision, and goals —ultimately impacting what matters most, our learners.

Additionally, the office collaborates with school-level professional development that is based on the implementation science framework, incorporate evidence-based practices (such as Project Based Learning or Inquiry-Based Learning), professional development like coaching and mentoring, while grounded on the needs of the schools and teachers. OCI facilitates professional collaboration with school instructional leaders, professional learning communities, teachers, and stakeholders. OCI also monitors with the school leaders the implementation of instructional programs, practices providing continuous feedback with a communication loop to the schools to ensure continuous improvement in accordance with the Strategic Priorities, Instructional Review Process (IRP), and Accreditation.
 
Our children are at the core of every decision made in curriculum and instruction. The implementation of standards-based education requires that the following belief is translated into practice in every classroom: quality education for all children and children can and want to learn. Today's students must be prepared unlike any generation before, to think critically and analytically while acting with innovation and creativity. A CNMI Public School student is college and career ready when he or she has achieved proficiency in academic standards, acquired essential skills for lifelong learning, and has the ability to transition into higher education and/or the workforce through an ongoing process of wayfinding for meaningful engagement.
Provided our 20 schools and Distance Education over three million dollars through Project Restart from the Federal Office. OCI content program leaders and school leaders coordinated the instructional materials for replacement as a result of the major disaster Yutu of 2018.  Most of the instructional materials (ELA, Science, Social Studies, CTE, DE, CCLHS) were received and distributed from April and ongoing.  Additionally, Math is on its way ready for September 2020.
Developed Social Emotional Framework for our CNMI PSS through the support of REL, ICLE  and CASEL.  Resources readily available for SEL were shared with school leaders.  Training and continued supports for school teams began July and will continue throughout the new school year.  The "Leader in Me" K-12 is readily available for K-12.  Currently the Middle schools are ready, while our elementary and high schools await funding for the resources.  
Received Striving Readers Grant at the amount of $303,911.97 to support literacy,  serving from Birth to 12 grade. As a result, the major part of the grant supported the opportunity to supplement  Chamorro Carolinian Language Heritage Studies with digital supports that includes home learning materials for students, parents and teachers.  OCI began the work to ensure the alignment of the standards, developmentally appropriate, culturally relevant and responsive, and whole learner centered.  Additionally, we met the expectations of our grantor with the project activities
Reviewed eight Homeschool applications.  Of the eight, seven were recommended for COE's review and approval. 
Welcomed our Math Director, Dr. Rizalina Liwag, to lead the K-12 Math Program and ensure the implementation of Math BOE standards and instructional materials, and instructional practices.  These will ensure coherence, rigor and relevant instruction for all students.
Provided Professional Development on coaching and modeling to our teachers on  "Literacy Across Content" using the BOE approved materials in Science, ELA and Social Studies prior to the closing of schools due to COVID19.
Collaborated with both school and central leadership, and worked on the Strategic Performance Management under Priority "Student Success".  The goals and strategies were revisited as a result of Dr. Allison Layland's guidance.  The strategies, milestones and action steps were also developed but with continued open mind for feedback and continued revision.
Vetted and recommended Priority Standards across all grade levels and content (ELA, Math, Science, Social Studies, Chamorro Carolinian Language Heritage Studies and CTE) through a deliberate criteria:  Readiness, Leverage, Endurance and meeting expectations/requirements, standards missed, data and BOE approved resources.  Rigorous Curriculum Design with Collaborative Instructional Review content and strategies training was provided to the OCI content leaders by ICLE in order that the process is backed by research.
Continued the Career Pathways process across all content areas, industry partners, schools, facilitated by American Institute for Research (AIR), Career and Technical Education Director, Dr. Jessica Taylor and the content experts for ELA, Math, Science, Social Studies, and CCLHS.  The Career Pathways are Construction, Nursing Assistant, Teaching, Journalism and Entrepreneurship.  Financial Literacy Framework was developed, vetted the Math, ELA, and Social Studies standards.   Provided the school leaders for reflection and readiness  towards piloting/implementing Financial Literacy from K-12.  OCI recommended an integration approach for K-5 with numeracy and literacy, while grades 6-12 under CTE, Math or career pathway.  Online and free curriculum resources were provided to the school leaders. 
Career and Technical Education Program
In School Year 2019-2020, the CNMI PSS delivered over 50 CTE-related courses to over 5,000 middle and high school students across the CNMI—from Agriculture to Woodshop. Here is a snapshot of the number of students who have taken a CTE course or two in SY 2019-2020:
 
CNMI PSS Middle Schools
Chacha Oceanview Middle School: 738
Dandan Middle School: 1068
Francisco M. Sablan Middle School: 918
Hopwood Middle School: 1312
Dr. Rita H. Inos Junior Senior High School: 55 (grades 6th-8th)
Tanapag Middle School: 374
Tinian Junior Senior High School: 170 (grades 6th-8th)
CNMI PSS High Schools
Daok Academy: 30
Kagman High School: 733
Marianas High School: 1025
Dr. Rita H. Inos Junior Senior High School: 114 (grades 9th-12th)
Saipan Southern High School: 720
Tinian Junior Senior High School: 60 (grades 9th-12th)
The CNMI Public School System (CNMI PSS) together with its postsecondary and workforce partners have launched an innovative partnership to build career pathways programs that will create new economic opportunities for its residents and prepare CNMI to meet workforce challenges today and in the future. CNMI PSS leadership is working with the American Institutes for Research (AIR) as well as NMC, NMTI, CHCC, DOL and other business, industry, and educational partners to address workforce needs through the development of a comprehensive and high-quality career pathways system and programs that aligns to the needs of local industries and builds the capacity of CNMI students to fill these needs. Some of these pathways include Construction, Nurse Assistant, Teacher Academy, Entrepreneurship, and Journalism and Broadcasting. Support for these program components are critical for high-quality CTE program planning, implementation and delivery. Resources such as equipment, supplies, instructional materials, technical support, stipends and policy recommendations are also necessary for these programs to be successful in serving all students.
 
Chamorro and Carolinian Language Heritage Studies (CCLHS)
In SY 2019-2020, the Annual Commonwealth of the Northern Mariana Islands (CNMI) Public School System's (PSS) Chamorro and Carolinian Language Heritage Studies (CCLHS) Program's State Level Language and Cultural Performing Arts competition was a significant accomplishment and highlight of the program's success. The PSS CCLHS' state-level competition was held at the Saipan Southern High School on January 25, 2020. About five hundred twenty-five (525) students from seventeen (17) schools participated in the various categories: Essay, Poster, Storytelling, Children's Choir, Choral Reading, Dual Speech, Oratorical/Proficiency, Male/Female Solo Singing, Cultural Chant, and Contemporary Dance. The event enabled students to share and to demonstrate their knowledge and skills through song, cultural dance, writing, storytelling, and speech. Our island community and our stakeholders (parents, teachers, PSS Leadership team, Board of Education members, and CNMI Legislative leaders) expressed their support and witnessed our students' performances. Government and private agencies were also invited to share their educational and community outreach programs during the event. This year's event was possible through the support and commitment of our major sponsors: Docomo Pacific, McDonald's, PSS, and Tanholdings Foundation.
 
Subsequently, the overall state-level winners represented the CNMI PSS in Guam at the Annual University of Guam Chamorro Language Competition held on March 9-11, 2020. Koblerville Elementary School competed in the Children's Choir category. The following middle schools represented the CNMI in Guam: ChaCha Oceanview Middle School (essay writing category), Francisco M. Sablan Middle School (Choral Reading category), Hopwood Middle School (cultural/chant dance and contemporary dance categories), and Tanapag Middle School (storytelling category). The following two high schools represented the CNMI: Marianas High School (categories: poster, dual speech, and solo singing) and Dr. Rita H. Inos Junior Senior High School (category: oratorical proficiency). Forty-seven (47) students competed at the UOG Chamorro Language Competition event. The CNMI PSS students garnered the following: 10 1st-place awards, seven 2nd-place awards, eight 3rd-place awards, and one 4th-place award. The CNMI PSS commend our students, teachers, and coaches for their commitment, hard work, creative artistry, and confidence.  The program offers our students extended learning opportunities as such to demonstrate their talent, skills and love of culture, language and traditions. 
 
The Striving Readers grant provided additional support by developing additional literacy resources connected to the standards, families, culture and language. The Reconvening Literacy Stakeholders sessions recommended  the literacy plan to address the need for more indigenous resources to include parents, families and caregivers.
 
English Language Arts (ELA) Program
The ELA Program guides the framework for curricular and instructional practices in Reading and Language development in English across all content areas from Kindergarten through the 12th grade, preparing students to be successfully literate in the 21st century. The goal of the ELA program is to prepare our students to be college and career ready. The ELA Program is committed to student success in the domains of the English language: reading, writing, speaking, listening and language structure (grammar) and is focused on improving literacy outcomes for all students.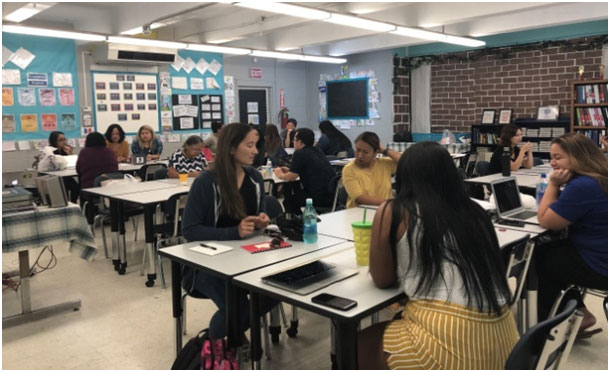 ELA Professional Learning Community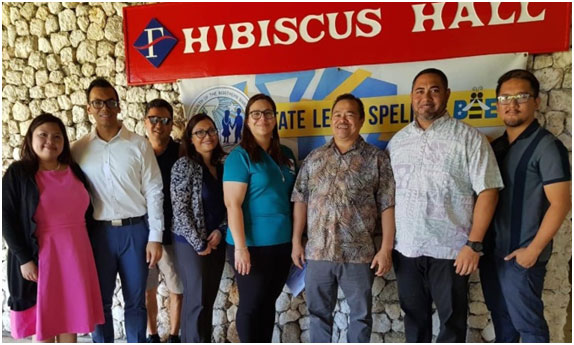 State Level Spelling Bee
For the SY 2019 - 2020, the major highlights of the program are the professional development support, and Spelling Bee. The ELA Professional Learning Community was able to meet six times to review, give feedback and input and collaborate on the standards maps, district data, and professional learning. A total of 82 teachers from K-12th grade attended the various sessions. The other professional development support was provided by Houghton Mifflin Harcourt which included coaching sessions with 41 teachers across different grade levels. The main focus was literacy across content and building confidence and knowledge of the primary resource materials. This year's State Level Spelling Bee was a success and truly highlighted the academic tenacity of our students. Our Local State Champion, Daisylyn Camacho, hails from Oleai Elementary School. Despite the many challenges, the ELA program was successful in building partnerships, confidence in teachers and providing support to all the schools. 
 
Teacher Mentor Program
The mentorship program will provide mentors and mentees with opportunities for professional growth and peer coaching through collegial support, reflective practice, and collaborative learning. The planning will focus on issues and identified needs including classroom management, instructional planning, the use of the primary instructional materials, growth plans, curricular issues, individual student needs, student assessment, data dialogue and literacy, and working with parents. The activities also include individual mentoring work plans with assigned mentees.
 
Mentor Teachers:
During SY 2019-2020, a total of 24 mentor teachers from three elementary schools ( KagES, WSR, SinES) and four middle schools (DMS, FMS, TMS) and one Jr/Sr high school participated in the Teacher Mentor Program. A total of 586 contact hours were recorded for mentor-mentee meetings and professional development. Teacher Mentors, overall, are satisfied with the program and have given feedback to the types of professional learning and development they would like the program to provide.
Mentees:
A total of 28 mentees have been enrolled in the mentor program for SY 2019-2020. They were given a survey to give feedback on the program and their experience as a mentee and the type of relationship they had with their mentors. The overall feedback is positive and most mentees found the program to be helpful in allowing them to grow professionally and personally. The feedback given from mentees will be used to help the program focus on areas of improvement.
 
Mathematics Program
The CNMI Public School System's Mathematics Program strives to prepare our students to become successful in college and in the careers our students choose to pursue.  The Math Program is aligned to the Common Core State Standards and provides our students the instruction and knowledge they need to be successful when they leave our schools.  Through the Math Program, students will be able to use mathematical and critical thinking skills for real-world application and problem solving.  Our Math Program also provides the necessary support for teachers to implement effective instruction and professional growth.
 
Throughout SY 2019-2020, the Math Program provided coaching and modeling sessions with teachers across the school system.  The Math Program has started the instructional materials review with our K-12th grade teachers. The College Preparatory Math-Quantway (CPM-Q) was piloted at four of our high schools (Kagman High School, Saipan Southern High School, Marianas High School, and Tinian Junior Senior High School). Seventy-four (74) high school students enrolled in the CPM-Q program across our high schools. The teachers and students had the opportunity to showcase evidence of student learning. Partnership continued with the Northern Marianas College, Carnegie Math, Regional Education Laboratory, and WESTED. Additionally, the CPM-Q core team members of four were accorded with professional development and networking opportunities by attending the National Organization for Student Success (NOSS) Conference in Nashville, Tennessee on March 3-7, 2020. Additionally, the Math Program procured instructional materials for kinder to 12th graders throughout the district. Professional development plans are underway in preparation for the new normal in SY 2020-2021. Lastly (but most importantly), the Office of Curriculum and Instruction welcomes Dr. Rizalina Liwag as the new Mathematics Program Director as we end SY 2019-2020 and as we welcome SY 2020-2021.
 
Science Program
The Science Program has successfully implemented learning growth opportunities for the CNMI Public School System. Opportunities included classroom modeling, teacher coaching, and hands-on science lesson planning. Between October 2019 and March 2020, we provided 17 days of science coaching outreach with 69 teachers between the K-2 grade levels. One major accomplishment was updating and streamlining our Science Standards-Based Report Card layout for the K-5 grade levels. In efforts to properly make the consistent change, we provided teachers and administrators the awareness, collaboration, and opportunity to give feedback on the science standards-based reporting format. At the end of the outreach, the consensus has chosen to display or report science grades in the arrangement of Disciplinary Core Ideas (Engineering Design, Motion and Stability, Molecules to Organism, and Earth Systems). Implementation will take place during School Year 2020-2021.
 
In addition, the Science Program has been monitoring and observing a 2% growth in student performance (ACT Aspire) each school year. At the end of School Year 2018-2019, the Science Summative results displayed 22.5% of students meeting and exceeding skills. During School Year 2019-2020 Science Interim Assessments, the results showed a new growth at 24% students meeting and exceeding skills. As a result, the Science Program will continue to provide critical services and support for our teachers and students to achieve a rigorous and enjoyable science experience.
 
Social Studies Program
The mission of the K-12 Social Studies Program is to prepare students to be responsible and productive citizens who are capable of making informed and reasoned decisions in our culturally diverse community, and carries a major responsibility to facilitate learning, the education of citizens, and to promote college and career readiness for all students.


Focuses for SY 2019-2020 included enhancing the Student Learning Environments, as recommended by AdvancEd summary report, and NMI History Closing the Achievement Gap, by offering technical supports and professional development opportunities for Social Studies teachers in the K-12 classrooms at the school and state level.  HMH consultant Suazanne Noor was able to offer coaching supports for grades 7- 12 Social Studies disciplines across the district, while the NMI History team engaged to enhance their content specific practices in the Response to Intervention and Step-Wise processes, and through historical excursions guided by historical experts in Rota and Tinian.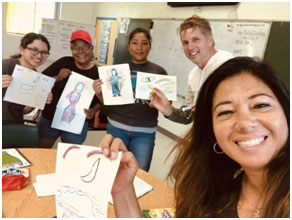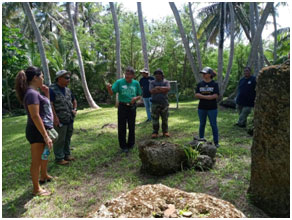 Health Program
The CNMI PSS Health Program is focused on providing a comprehensive health curriculum that seeks to help all students reach an optimal level of physical and mental health. The CNMI Health Standards and Benchmarks delineate the health literacy expectations for our students. The ultimate goal of this program is to foster a stronger school system and a community conscious and sensitive to our health and the environment. Although the Health program is without a program coordinator, our office was able to obtain weighted data on the 2018 School Health Profiles (SHP) and the 2019 Youth Risk Behavior Survey (YRBS). The YRBS was collaboratively conducted with the support from the Office of Student and Support Services' Counseling Program. The Office of Curriculum and Instruction is currently working with the Centers for Disease Control and Prevention to conduct the 2020 SHP surveys. Due to the Coronavirus pandemic, the 2020 SHP surveys will be conducted this school year 2020-2021.
 
Physical Education (P.E.) Program
The Physical Education Program is an integral part of the overall education program.  Physical Education contributes significantly to every student's health and well-being.  Every student – regardless of disability, ethnicity, gender, native language, race, religion, or sexual orientation – is entitled to a high-quality physical education.  Our Physical Education Program provides students the opportunities to develop the skills, knowledge, and confidence necessary to live a physically active lifestyle.   Students are given sufficient opportunities to attain the physical education learning standards at each grade level.  The Physical Education Program promotes an active lifestyle and improved health, motor skill development, and better cognitive performance for all our students.  Although the Physical Education (P.E.) program is without a program coordinator, our office was able to procure the Sports, Play, and Active Recreation for Kids (SPARK) curriculum for Kinder to 12th Grade. In SY 2019-2020, trainers from the University of Guam provided professional development to our K-12th grade teachers on the SPARK curriculum. Additionally, all twenty K-12 schools received the complete SPARK curriculum and P.E. resources.
 
Fine Arts Program
The goal of this program is to develop and implement a Fine Arts curriculum in the schools that is aligned with ESSA, which will result in students graduating college and career ready and be productive in an independent global society.  Although the Fine Arts program is without a program coordinator, we continue to support through after-school programs and competitions throughout various programs by integration in different content areas. Both the Career and Technical Education (CTE) Program and the Chamorro and Carolinian Language and Heritage Studies (CCLHS) Program assisted and provided support on integrated instruction.
 
Right Block:
DISTRICT DEPARTMENTS
AND OFFICES