Executive Summary
The Office of Student & Support Services (SSS) are comprised of programs that engage the community, families, students and staff in various capacities. It is our vision to contribute to a healthier, more inclusive, and engaged
community by actively supporting the needs of our stakeholders and partners.
The overall goal of SSS is to promote opportunities that enhance overall student growth in the areas of:
 
Leadership, Citizenship & Service Learning
Junior Reserves Officer Training Corps
Middle School Leadership Corps
AmeriCorps
Mental Health & Wellness
School Counseling Program
Personal Responsibility Education Program

Teen Pregnancy Prevention
After School Program

Athletics
Mental Health

Project TASA
Project HALIGI AWARE
Individualized & Equitable Instruction
Early Intervention
Incarcerated Youth Program
Cooperative Education
The goal of SSS is to level the playing field for all students from infancy to secondary education (birth to 21) by incorporating programs that meet specific student needs in the main areas of physical and mental wellbeing,
service learning, and support for at-risk youth. The programs within SSS are co-curricular in nature, serving students, their families, and school staff by creating opportunities for robust partnerships that build upon the
district's strategic priorities for student achievement. SSS strives to influence positive trajectories for students by harnessing protective factors through skill building, mindfulness and equitable opportunities. Many programs
within SSS collaborate to ensure that support for students, families, PSS personnel and stakeholders are made available through activities such as summits, focused training and collaborative outreach.
Athletics Program
The Athletic Program concluded an exciting, successful year in providing students with an extracurricular sports outlet to stay healthy, actively engaged and challenged. Over the course of SY 2019-2020, the Athletic Program set and achieved goals to reflect the multidimensional aspect that interscholastic sports can provide. By collaborating with other programs that highlight the importance of wellbeing, we saw success in developing: capacity, importance of nutrition, mental health awareness and the value of community. Building the Athletic Programs capacity offered students increased opportunities in a variety of sports. School year 2019-2020 predicted opportunities to participate in Golf, Cross-Country, Basketball, Volleyball, Soccer, Outrigger, Fastpitch Softball, Track and Field and Weightlifting.

Due to global and economical factors in the fourth quarter, the last three sports did not come to fruition. Despite these challenges, the Athletic Program witnessed the participation of 1,668 students, ranging from age 5 through age 18, between the first and third quarter. Students were equally provided the opportunity to join the sport(s) of their choosing and were supplied the appropriate training equipment, uniforms and other necessary material at no cost to student or parent. Nutrition was ighlighted, for student athletes, by partnering with the PSS Child Nutrition Program (CNP) to provide meals during non-school hour sporting events. Through the PSS-CNP the Athletic Program distributed 1,732 meals between October 2019 and March 2020.

Aside from the variety of sports offered and the free meal option, students were also provided new school uniforms to participate in. The Athletic Program, in conjunction with the Federal Grants Program, was able to procure system wide uniforms worth $18,440 to be loaned out to student athletes and PSS Coaches for the duration of each season. These uniforms provide a sense of pride and excitement for students to represent their individual schools. Another successful partnership was established this school year between the Athletic Program, Student and Support Services, Community Guidance Center (CGC), Rota Mayor's Office, and other Mental Health Professionals by conducting the Goodwill Games and Campfire Chats which hosted 50 high school female participants from all six CNMI highschools. These students were provided with a weekend of volleyball, outdoor activities, wellbeing workshops and an opportunity to chat with peers and PSS Guidance Counselors over a BBQ / Bonfire on one of Rota's pristine beaches.

Lastly, the Athletic Program achieved capacity building within the community by partnering with local sports federations: Marianas Island Basketball Federation (MIBF), Northern Marianas Volleyball Association (NMIVA), Northern Marianas Athletics (NMA), Northern Marianas Island Football Association (NMIFA) and Northern Marianas National Paddling Sports Federation (NMNPSF). Each federation provided referees, officials and volunteers familiar with each sport to ensure all activities were executed safely and monitored appropriately. The Athletic Program looks forward to continuing it's growth through expansion in participant numbers, relationship building with relevant sport Federations, and expanded sports opportunities for both PSS and Private School students throughout the CNMI in SY20-21.
 
Student participation breakdown by age and gender per sport:
Scroll the table left to right
| | | | | |
| --- | --- | --- | --- | --- |
| Girls | Cross Country | Basketball | Volleyball | Soccer |
| 4-7 years | 51 | NA-See Co-ed | NA | NA |
| 8-10 years | 45 | 50 | NA-See Co-ed | NA-See Co-ed |
| 11-13 years | 26 | 95 | 159 | 72 |
| 14-18 years | 26 | 68 | 82 | NA-COVID-19 |
Scroll the table left to right
Scroll the table left to right
| | | | | |
| --- | --- | --- | --- | --- |
| Boys | Cross Country | Basketball | Volleyball | Soccer |
| 4-7 years | 59 | NA-See Co-ed | NA | NA |
| 8-10 years | 42 | 103 | NA-See Co-ed | NA-See Co-ed |
| 11-13 years | 52 | NA-COVID-19 | 96 | 87 |
| 14-18 years | 119 | 165 | NA-COVID-19 | NA |
Scroll the table left to right
Scroll the table left to right
| | | | |
| --- | --- | --- | --- |
| Co-Ed | Volleyball | Soccer | Outrigger |
| 8-10 years | 109 | 96 | NA |
| 14-18 years | NA | NA | 66 |
Scroll the table left to right
Total student participation without breakdown of age or gender per sport:
Scroll the table left to right
| | | | | | |
| --- | --- | --- | --- | --- | --- |
|   | Cross Country | Basketball | Volleyball | Soccer | Outrigger |
| Participants | 420 | 481 | 446 | 255 | 66 |
AmeriCorps Program
The CNMI Public School System AmeriCorps Program recruits, selects, trains and deploys 60AmeriCorps members to provide cross age peer to peer tutoring services in Reading to at-risk PSS students performing at the bottom quadrant in grades K-8th Grade. Tutoring services are provided at the 9 elementary and 7 middle school sites across the islands of Saipan, Tinian and Rota. At the end of the 1st program year, AmeriCorps members will be responsible for increasing the reading level of 480 student tutees. This program's focus is in the area of Education. AmeriCorps has a total budget of $565,821, with the Corporation for National Community Service investing $456,910 and a matching local share of $108,911.

 
Cooperative Education Program
The Cooperative Education & Training Program, otherwise known as "Co-Op", is a student internship program that integrates classroom instruction with supervised on- the-job training. The program consists of both Cooperative Education, which occurs on-campus and Cooperative Training, which occurs off campus. By participating in off-campus job training, Cooperative Education students will be able to apply classroom concepts through real-life, experiential learning.
 
One of the primary goals of the Cooperative Education Program is to help students understand and explore the many career options made available to them. As students progress through the program, the experiences and lessons learned will enable each student to narrow down and more clearly identify what career path they are most interested in. With a clearly identified career path, students will be able to determine what type of post secondary education is necessary for continual growth, and they will be able to fine-tune the academic, social and technical skills necessary to be successful in their career of choice.
 
School Counseling Program
The School Counseling Program benefits students, parents, teachers, administrators and the community by being an integral part of students' daily educational environment. It serves school counselors as partners in student
achievement by supporting counseling services in the areas of academic, career development and personal/social development. The CNMI School Counseling Program, through the State Board of Education has adopted American School Counseling Association (ASCA) standards.

 
Army Junior Reserve Officer Training Corps (JROTC)
The focus of Army JROTC is reflected in its mission: "To Motivate Young People to Be Better Citizens". The Program of Instruction (POI) focuses on the development of better citizens by building skills in leadership, citizenship, life success, geography, and wellness, in a structured interactive environment. The POI is designed to teach high school students the value of citizenship, leadership, service to the community, personal responsibility, and a sense of accomplishment, while instilling in them self-esteem, teamwork, and self-discipline.
 
The curriculum helps cadets develop lifelong leadership and decision-making skills. These skills are exhibited on  a daily basis; and set a model for the student body to emulate. The JROTC curriculum is linked to National McRel K-12 content standards entitled Content Knowledge: Compendia of Standards and Benchmarks for K-12 Education. The JROTC Program now addresses a number of academic standards that have been proven to be effective in raising the bar of student learning. They include: citizenship health self-regulation, civics language arts, thinking and reasoning, economic life skills US History, and geography life work working with others.
 
JROTC is accredited by the Southern Association of Colleges and Schools (SACS).
JROTC Core Abilities
Build Your Capacity for Lifelong Learning.
Communicate using Verbal, Non-Verbal, Visual and Written Techniques.
Take Responsibility for Your Actions and Choices.
Do your share as a Good Citizen in Your School, Community, Country, and the World.
Treat Self and Others with Respect.
Apply Critical Thinking Techniques.
JROTC Goals
Promote Citizenship
Develop Leadership and Critical Creative Thinking
Teach to Communicate Effectively
Improve Physical Fitness
Provide Incentive to Live Drug Free
Strengthen Positive Self-Motivation
Provide global Awareness to Include a Historical Perspective of military service
Train to Work as a Team Member
Inspire to Graduate from High School, Attend Institutions of higher Learning, and Pursue Meaningful Careers, Particularly in the Areas of Science, Technology, Engineering and Mathematics
Middle School Leadership Corps
The CNMI Public School System Middle School Leadership Corps (MSLC) is implemented in all junior high/ middle schools in Saipan, Rota and Tinian. MSLC provides leadership and citizenship skills to students that help pave the way for community involvement and career development. Students who participate in MSLC often transition to high school Junior Reserve Officer Training Corps (JROTC). JROTC instructors and battalions mentor their middle school counterparts as a service learning project and to increase the program effectiveness of incoming cadets.
Mental Health
The vision of the Mental Health program is to provide behavioral health support and interventions promoting the resilience of the social, emotional, and behavioral wellbeing of the PSS youth, families, educators, staff , and
community. The mission of the Mental Health program is to increase resilience among the CNMI Public School System students and staff, and create a safe and supportive learning environment, promoting healthy and
successful students (Tier 1, Universal); to implement a comprehensive Behavioral Health School Service that
adopts a Multi-tiered System of Supports that are trauma informed; to establish a system of care that includes early identification and intervention for students and sta at risk, and provides intensive supports that include key
strategies and key partnerships that are evidenced based practices (Tier 2, 3).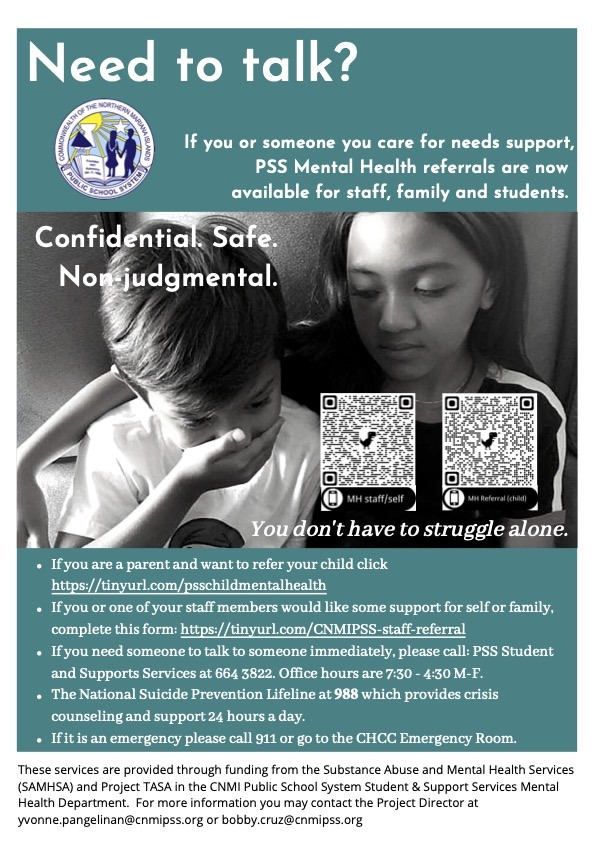 PROJECT TASA
The Commonwealth of the Northern Mariana Islands Public School System (CNMI PSS) Project Trauma Advised Student Advocacy (TASA), like the pillar on which the indigenous Latte Stone homes were built, aims to support and increase student resilience in a region where people have experienced trauma as a result of two recent devastating natural disasters. Typhoon Manghkut and Super Typhoon Yutu, have resulted in displaced families, devastated infrastructure, and psychological distress on youth and adults. To mitigate the impact of disaster-based trauma and crisis, the CNMI Public School System will implement a multi-tiered approach to school-based behavioral health and crisis response. The goals of Project TASA are to improve CNMI PSS staff preparedness to both recognize and respond to trauma and crisis, increase access to school-based and related mental health services and build connectedness among family, schools, and community to address student mental health and well being.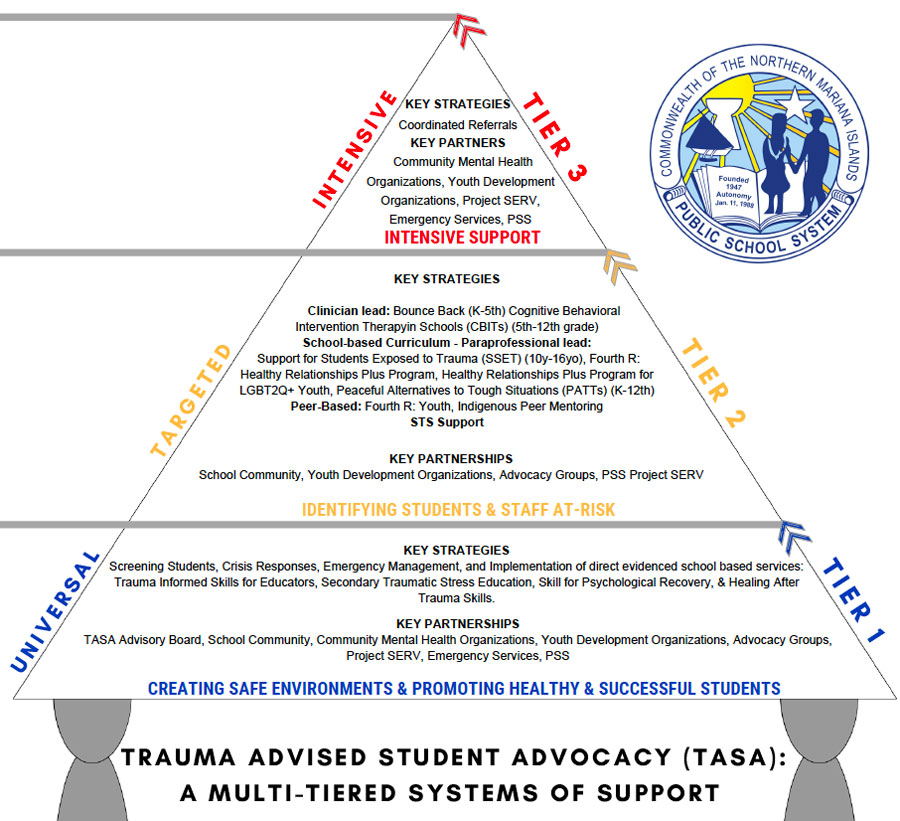 PROJECT HALIGI AWARE
The Commonwealth of the Northern Mariana Islands Public School System Project Healthy, Affirming Locally-Inclusive Grant Initiative for Advancing Awareness and Resilience in Education (HALIGI AWARE) aims to increase mental health awareness and access to care through establishing the foundational and preventative layers of a multi-tiered system. Haligi is the foundation pillar of the indigenous Latte Stone homes and similarly, this project will connect home and community to schools and create a positive culture for universal student accessibility.
 
The goals of Project HALIGI AWARE are to:
develop a sustainable infrastructure through improved collaborative partnerships utilizing a multitiered approach to awareness, education, intervention, & prevention
adopt evidenced-based behavioral health strategies to improve access to sustainable services, adopt early identification & warning system measures, & coordinated referral processes
equip education professionals with the tools necessary to increase awareness, recognize, & respond to behavioral & mental health issues among students
expand home & community awareness through outreach & engagement to promote enhanced cultural & linguistic responsive public awareness on positive mental health, protective factors, resilience, prevention, advocacy, & access to resources, and
equip school-aged youth to develop sustainable skills & enhance peer support opportunities that promote resilient prosocial behaviors & prevention engagement.
Personal Responsibility Education Program (PREP) - Competitive & State
Competitive Personal Responsibility Education Program
The PSS is implementing 3 evidence-based curricula – Making a Di erence (6th grade), Making Proud Choices (7th grade) and Be Proud! Be Responsible! (high school). The program provides supplemental instruction on anatomy and puberty for 6th grade students, and incorporates adaptations designed for Paci c Islander and Asian youth into all 3 curricula.

In the October 2019 – March 2020 reporting period:
students completed the Making Proud Choices curriculum;

students completed the Making a Difference curriculum; and

students completed the Be Proud Be Responsible curriculum
82 Youth Leaders attended a Youth Leadership Planning Session in the rst semester from Saipan, Tinian and Rota. An overall Youth Summit on each island was supposed to take place but due to the COVID-19 pandemic, the summits have been postponed until the beginning of the next school year. A total of 10 parent night sessions were completed from October 2019 – March 2020. The primary barrier to student recruitment was the shortened school day due to damage from Super Typhoon Yutu in October 2018. Some schools continued to have double sessions while other schools had to have their classrooms in tents. This allows less time to t sexual health in with other subjects. Instruction was disrupted in March 2020 due to
COVID-19. Public schools closed in mid-March and will remain closed for the remainder of the school year.
State Personal Responsibility Education Program
Due to the delay of funding for FY20, the Public School System (PSS) has not been able to operate the after-school program during the current 2019-2020 school year. Without an award notice, the PSS is not able to front funds for the program. Internal policies and procedures as well as cash ow concerns do not allow it. State PREP funding was awarded in March 2020 for FY20, the afterschool program could not start the Summer Program due to the COVID-19 pandemic so planning and preparation is taking place for the start of Fall After School Program to take place in September at the beginning of the school year. Preparations are taking place to order supplies, procure a virtual platform for training for teachers and parents prior to the start up since there will be a need to revamp various lessons to ensure social distancing, and health and safety procedures. The procurement of television and radio time is in the process to ensure that the various topics connected to PREP continue to be discussed and addressed and families can be aware of the support and training available through PREP.
Early Intervention Program
The CNMI Public School System (PSS) is a unitary educational system responsible for the provision and supervision of early intervention service and support for infants and toddlers with disabilities on three populated islands. PSS is the Lead Agency responsible for the implementation, supervision, and monitoring of the Early Intervention Program (IDEA Part C). The Commissioner of Education (COE) is the PSS Chief State School Officer responsible for administering the IDEA Part C. Through an Interagency Agreement with the Commonwealth HealthCare Corporation, early intervention services are provided to eligible infants and toddlers with disabilities (birth to three years old) and their families.
Incarcerated Youth Services
The CNMI Public School System provides educational services to youth in the justice system. A full time highly qualified classroom teacher delivers instruction to incarcerated youth and collaborates with the home school to ensure that all educational services are provided to youth and their families prior to re-entering the school setting.
Right Block:
DISTRICT DEPARTMENTS
AND OFFICES